Leadership
Jerry L. Miller, Founder and President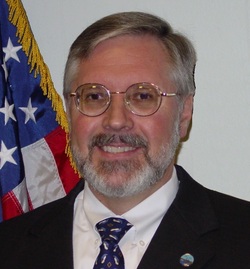 Dr. Miller established Science for Decisions in early 2013. From 2015 through 2017 he has also served as Director of the Science and Technology for Sustainability program at the National Academies of Sciences, Engineering, and Medicine. He served as Assistant Director for Ocean Sciences at the White House Office of Science and Technology Policy (OSTP) from 2009 through early 2013 prior to establishing Science for Decisions. He was instrumental in the creation of the United States' first National Ocean Policy and the development of its foundational science priorities. He was founding co-Director of the National Ocean Council Office and later served as its Deputy Director for Science and Technology. In addition to his policy work, Dr. Miller addressed science and technology aspects of major disasters including the Deepwater Horizon oil spill and the tsunami-induced Fukushima nuclear accident by fostering engagement of the academic community with federal agencies during and after the events.

Before taking on his role at OSTP, Dr. Miller was Technical Director and Director of Research at the Consortium for Oceanographic Research and Education (now the Consortium for Ocean Leadership) where he had management and oversight responsibilities for the program offices of the US National Oceanographic Partnership Program, the national and international Census of Marine Life programs, and other community-wide activities. As Associate Director for Ocean, Atmosphere, and Space Sciences at the Office of Naval Research – London, he built international programs in ocean and atmosphere modeling as well as remote sensing. At the Naval Research Laboratory and while on the faculty at Old Dominion University, he developed interdisciplinary numerical and observational projects focused on coastal environments. He collaborated with experts in microwave technologies to create an airborne surface salinity sensor and generated the first remotely-sensed images of sea surface salinity ever obtained.

Dr. Miller grew up on a family farm in coastal South Carolina and now lives near Washington, DC, with his spouse, a classical pianist and music historian from Los Angeles.

---